Carson SC-1022 Volunteer Siren and Speaker Bundle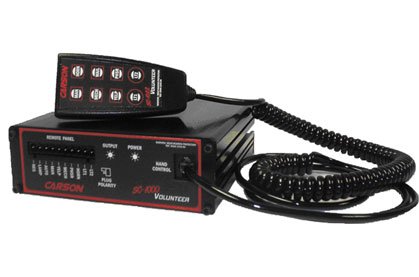 BUNDLE AND SAVE!!!!!!!  MECHANICAL TONE SIREN
Up for grabs is a Carson SC-1022 Volunteer Siren and Feniex S-2009 Siren Speaker and bracket.  If parts were purchased together it would cost over $300.00.
The new Carson SC-1022 Volunteer Hand-held Mechanical Tone Siren is designed for volunteer firefighters who need to clear traffic in a big way. This small, compact siren offers the standard tones like wail, yelp, and manual and also offers the new Carson mechanical tone. The siren even provides dip switch programmability of the European HiLo/Two-tone sound as optional substitutes. This gives you full coverage for any emergency situation.
Users can expect big results with this compact siren. The rubberized face is completely enclosed and gives you a smooth front panel allowing easy access to everything you need. The hand-held remote control head with light controls for emergency situations is easy-to-use and ideal for situations when you want it out of the way. The remote amplifier offers an output indicator on the face for diagnostic purposes.
SC-1022 Volunteer Remote Siren With Big Results
This small 100-watt siren with big results is the SC-1022 Volunteer Hand Held Mechanical tone siren that offers all the same reliable performance, rugged and durability along with consistent quality that comes with all the Carson Siren line. As with all Carson Sirens products, the SC-1022 Volunteer is backed by a no-hassle 5-year limited warranty.
Mechanical Tone: This sirens deep and gutsy mechanical tone allows you to sound just like a fire truck clearing traffic. This siren will set you apart from the rest.
Lighted Pushbutton Controls: Two lighted pushbutton switches for controlling auxiliary or emergency lighting.
Output Diagnostic Indicator: Sensors at the siren output connector measure when the siren is creating an output to the speaker on the face of the remote amplifier for diagnostic purposes. This provides the service person with the ability to determine if the problem is internal with the siren or external with the wiring and speaker should the system fail to produce a warning signal.
Horn Ring Cycler 2: Allow the operator the capability to run the siren tones from the vehicle horn ring or other external switching for hands free tone selection during pursuit or rescue situations.
Features
Remote hand held unit with pushbutton controls
Compact 100-watt electronic siren amplifier with 20 total amps of light control
Two illuminated rockers for light control
Six pushbutton switches for Mechanical, Wail, Yelp, Phaser, Manual, and Air Horn with optional European HiLo/Two Tone siren tone
DIP switch programmable tones
Power indicator on remote amplifier
Horn Ring Cycler (HRC2) for hands free siren tone control
Amplifier and light controls fused separately and externally
Short circuit, high voltage and reverse polarity protection systems
Sound output indicator light for diagnostics
Mounting bracket
2″ H x 6″ W x 6″ D
No-hassle 5-year limited warranty