Carson HPK-100 In-Cab Stutter Horn System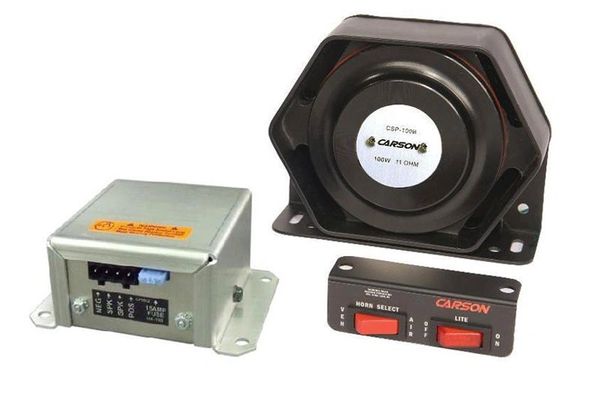 Carson HPK-100 In-Cab Stutter Horn System
Tired of being seen and not heard? Carson has the answer…the HPK-100 In-Cab Stutter Horn System. This loud and legal* audible warning solution bundles 3 NEW, professional grade Carson products the HA-100 In-Cab Stutter Horn Amp, the SP-200 Switch Panel, and the CSP-100B Speaker, into one affordable, easy-to-install horn kit. The HPK-100 combines the traffic clearing power of a simulated "stutter" air horn with auxiliary light control to provide the attention you need to make it quickly and safely on scene. Compact and durable, the HPK-100 is ideal for POV installations where interior mounting space is limited. Just another way that Carson is helping ALL volunteers to RUN SMALL, SOUND BIG, and ARRIVE SAFE.
Features
100 watt electronic air horn amplifier
Compact for flexible, interior-mount installation on any vehicle
Legal* for POV use
"Stutter" air horn sound
Maybe connected to vehicle horn ring or separate switch (customer supplied)
Lightweight aluminum chassis
High voltage protection
Output indicator light for diagnostics
4 Pin removable terminal block for easy installation
Basic wiring for simple, easy installation
1-13/16″ H x 4-1/4″ W x 3-5/8″ D
No-hassle 5 year limited warranty
*Legal in most states. Please consult your local/state vehicle codes to ensure compliance with vehicle horn regulations.
SP-200 Switch Panel
Easily switch between standard vehicle horn and louder, more powerful "Stutter" air horn
Illuminated rocker switch for up to 15 amp capacity auxiliary light control
Simple, easy installation to amplifier and vehicle horn
CSP-100B Basic Speaker
Slim, hexagonal shape for flexible installation on any vehicle
100 watt output
11 ohm impedance
Integrated, universal mounting bracket design
Black, corrosion-resistant metal structure
400Hz to 3500Hz operational frequency spectra
5.10″ H x 6.34″ W x 2.36″ D
Weighs only 6 lbs.
No-hassle 1 year warranty